"Play serious."
Urbantrikes come in over 2.73 x 109 combinations. Seriously, you can check our math. We offer our base trikes in three different models and five different colors, but you don't have to stop there. We offer the ability to "build-your-own" urbantrike. Interested? Okay, it's still in beta but it works. The Urbanizertm allows you to customize you own urbantrike from an ever expanding variety of frames, wheels, colors, tires, handlebars, grips, seats, and other accessories.
"Trikes are sexy."
Straight up, it's a fact. No, we're not talking about those little red jobbies you had at 3 years old. Well, they are sexy too in their own right. But when you are trying to turn the heads of those NOT being driven to school by their parents, nothing less than an urbantrike will do. In fact, while riding an urbantrike, you are 60% more likely to turn the head of the opposite sex*.
Urbantrike is all about being yourself and having fun. Remember being 8 years old? It was easy because we didn't care about bills or vacation time or promotions. It was all about candy, ninjas, and freeze tag.
Combine that same feeling with your 401(k) and your mocha lattes, but subtract the runny nose and pink eye. You want to feel like a kid again, not be a kid again…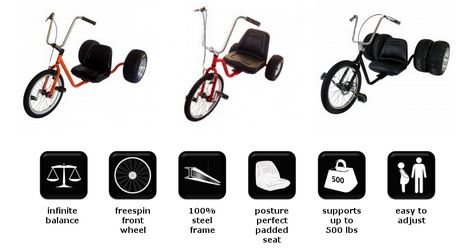 Help us bring the big wheel back. Not just a larger version of the same old thing, a true adult version. Face it, you can afford more than a hard plastic seat and your sense of style craves new slick colors and accessories. Yes, we know. When you were little you didn't need cup holders and smartphone mounts – but you didn't drink coffee or upload funny videos to Facebook either.
Have it all on an urbantrike.